76th Foot / Army Service Corps / 5th Lancers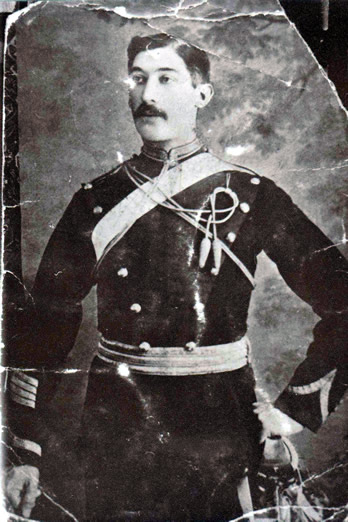 Richard was born at Curragh Camp Army Base, County Kildare, Ireland to father William and mother, Mary J. Simms (from Nova Scotia). His birth coincides with the 76th Regiment of Foot stationed in Dublin, Ireland 1858-1861 and in which William Simms was posted. From Ireland, this unit went on to perform Garrison duties in places such as Glasgow and Aldershot, but the 1861 census shows, Richard aged 2, residing with family at 5 High Street, Bridgnorth. His father was recorded as a Pensioner (aged 40) and an Instructor of Musketry.
On same census, it shows Richard's brothers and sisters. Mary E (16 & born in Carmarthen), Emma P (14 Born in Glasgow), Frederick G (10 & born on the Ionian Island, Zante) Lewis M (8 & born in Malta) and Amelia J (6 Born in Nova Scotia). All were of school age aside from Richard and Mary E., who was a governess. It appears that the family had been well travelled, both at home within the colonies of the British Empire, and the family were now settling down at home at 5 High Street, Bridgnorth.
Ten years later, the family all appear on the 1871 census apart from Mary E and Lewis M, A new addition, aged 8 years is Charles W, now living less than a mile away at 7 St. John Street, Bridgnorth. It is possible that recorder made a mistake on this census, and got the birth places for Richard and Charles mixed up. A boarder is also living with the family in this house at, 7 St Johns Street, Bridgnorth, by the name of Thomas Astin.
Assuming the earliest he could have signed up and join the 76th Regiment, probably taking the support of his father, was in 1873, when aged 14 . This means he would have rapidly taken on Non-Commissioned Officer status, understanding that he was to be promoted to sergeant by 1879.
A marriage certificate, confirmed by his signature, shows that bachelor Richard Dalton Simms was married on 9th December 1879 to Mary Ann Elizabeth Clarke at the Parish Church, Weedon Bec, Northampton. He was 21, she 18. Richard's father listed as a Late Quartermaster of the 76th Regiment and Mary's father, Henry, was a Painter.
In 1881, the 76th was merged with 33rd Regiment to form the Duke of Wellington's Regiment (West Riding). This merge and the effects of the Cardwell/Childers Reforms, may ultimately have led to a decision for Richard to serve with the 5th Lancers, whose depot was based in Canterbury.
Canterbury was home for a while as in 1884, his son Richard Henry was born. He had not made any further promotion from the previous record of Sergeant when he was initiated into Military Lodge (1895). By 1887, when William Henry was born, he is now recorded as an Instructor at the School of Musketry (followed in his father's footsteps).
Between 1888 and 1894, they are presumed to be in India with the regiment. Certainly in 1889-90 he was stationed in Meerut (Bengal) him having joined two further masonic lodges and at the birth of his son, Alfred David.
We pick him back up in Dover, Kent when two further daughters are born in Q3 or Q4 1894. The birth folio references for Ada and Ethel are the same indicating that they were twins.
In 1898, the Service Record for his son, Richard Henry Simms is shown with his father recorded as Barrack Warden at Dover. Listed against this record show Richard Dalton Simms' sons and daughters, Richard Henry (14), Annie, Elizabeth Sorbie?, Ada, Ethel, William Henry and Alfred David. The mother for all children was noted as Lizzie Simms.
In the second half of 1900, Mary Ann Elizabeth (Lizzie) died at Dover. A year or so later he married Elizabeth Florence Walker.
Up to 1903, Richard was back living in Canterbury, Kent. Resident at 43 Stone Street and worked as a Beer Retailer. Perhaps this happened and was short-lived because between 1903 until at least 1906, at the time of Consecration he was resident at 42 Mersea Road, Colchester. He was recorded as an Army Barrack Warden in 1903 at Comrades Lodge consecrations.
By 1911 he was still employed as an Army Barrack Warden, Army Service Corps and resident at 3 Meyrick Crescent, Colchester with his wife Elizabeth Florence and the twin daughters Ada and Ethel, both stated now to be 16 years old . His name appears on the 1911 census as enumerating officer for the Colchester South (garrison).
1914 he was living with Florence E Simms (E.F. Simms) at Chalksole Green, Alkham, North Dover.
Richard Dalton Simms was recorded on Banns in 1918 as a widower and was married on 12th October 1918 to Ada Stevens, a widow at St. Margaret's, Hillingdon, Uxbridge. The marriage certificate confirms that this is the same person, listed as a 59 year old Barrack Warden, A.S.C., but now living with 42 year old Ada, at 42 New Windsor Street, Uxbridge. Both fathers were listed as deceased (Ada's William Massey a Chair maker and William Simms was listed as an Army Pensioner).
He died, aged 84 in Buckinghamshire c. 1943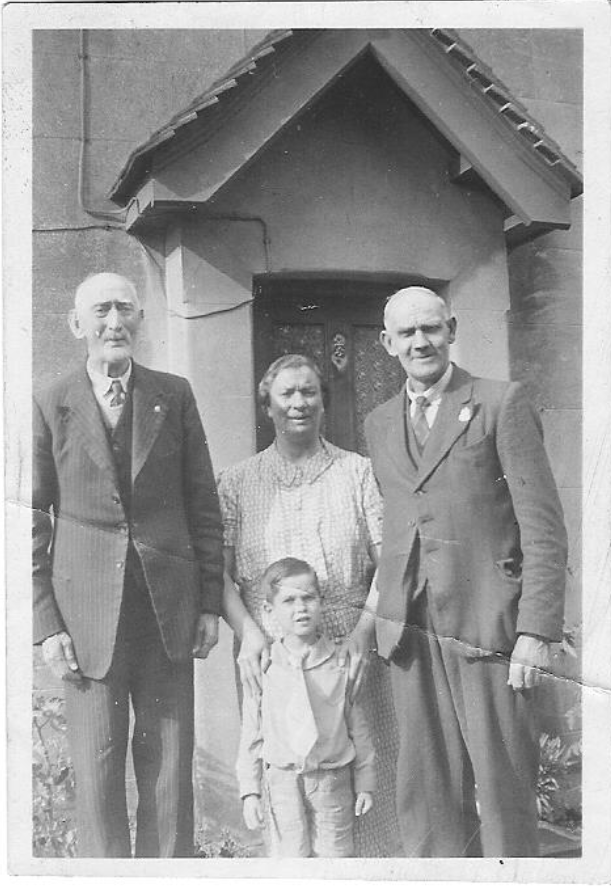 Richard Dalton Simms (pictured left)
Family:
Mary Ann Elizabeth 1862-1900 nee Clarke and also known as 'Lizzie'. First Wife, born c.1861/2 Died Q3/Q4 1900 at Dover, Kent
Elizabeth Florence 1858-. Second Wife (nee Walker) From Swaffham, Norfolk married 29th June 1901 at the Registry Office in Canterbury.
Ada Third Wife (nee Massey / Stevens - widow) Born 1876
Amelia Isabella 1881 - First daughter, born at Curragh Camp 19th March 1881
Elizabeth Mary 1882 - Born at Limerick, Ireland.
Richard Henry 1884 Son by first marriage. Attested at Dover, aged 14, into the Royal Fusiliers and service lasted from 1898 to 1906 serving abroad in Bermuda, Egypt, Malta and Gibraltar before a medical discharge. He re-attested on the 2nd September 1914 to serve with the 4th (New Line) Bn, North Staffordshire Regiment before again no longer physically fit for War Service on 2nd December 1915.
William Henry 1887-1939 Son by first marriage, born at Northgate Barracks, Canterbury 28th January 1887. He rose to become a Drum Major serving with the 2nd Bn Staffordshire Regiment. He died in 1939 Beverley, Yorkshire. See picture below.
Alfred David 1889 - Born in Meerut, India 6th December 1899. Married Rose Minnie Elsie
Ada 1894 - Twin sister, born in Dover by first marriage
Ethel 1894 - Twin sister, born in Dover by first marriage
Military:
Between 1888 and 1897 the 5th Lancers were posted to India. Richard was listed as resident at Meerut 1889 he was posted to Meerut, Bengal. George Waterman joined Lodge of Hope at the same time
1879 Sergeant with 76th Regiment
1885 Sergeant (Royal Military Lodge)
1887 Instructor School of Musketry (W.H. Simms Birth Cert)
1889 Quartermaster Sergeant
1906 Barrack Warden, Army Service Corps
November 1914 Rejoined as Private for war service. Immediate promotion to Squadron Quarter Master Sergeant
1915 Promoted to Warrant Officer Class II
August 1916 Discharged.
ORC 5th Lancers
He rejoined at Dover on the 18th November 1914 on a short service attestation with the Army Service Corps (ASC). His regimental number was S/2SR/01832 He was immediately promoted from Private to SQMS (Squadron Quarter Master Sergeant) and he was employed on home service duties until 28th May 1915. For the next 305 days he was with the British Expeditionary Force in France. From 29th March 1916, he was back doing home service at Catterick. He was subsequently discharged on 11th August 1916, being no longer fit for war service.
He was awarded the 1914/15 Star, the British War Medal and the Victory Medal. In addition to this, he received a Silver War Badge (No 10352.)
Masonic: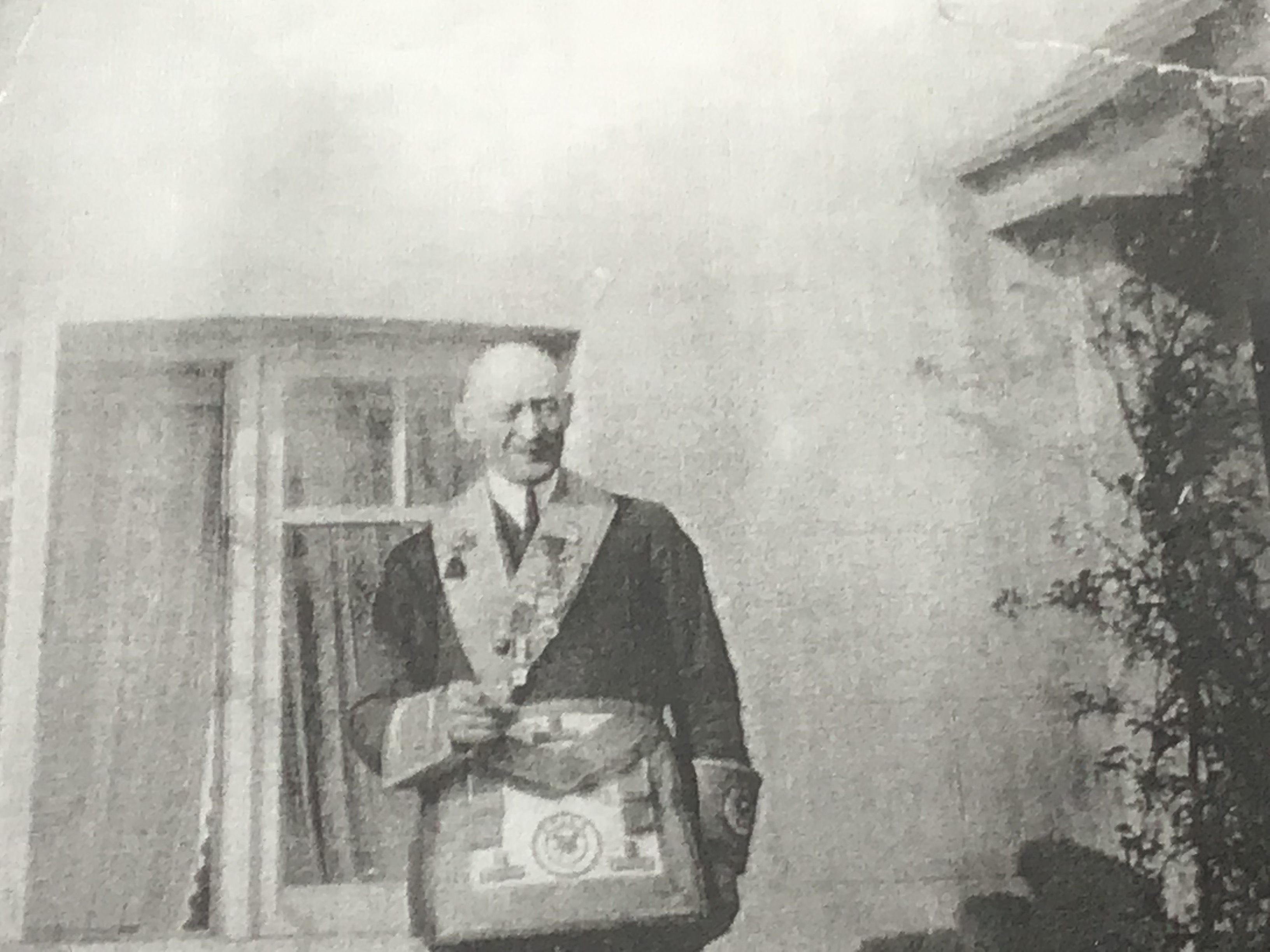 Richard Dalton Simms aged 31 joined L413 the same day as Bro. George Waterman and also Malwa Lodge No. 1994 about the same time. Both are listed as O.R.C. 5th Lancers One of the 25 petitioners not named individually on the Warrant of Constitution.
He was 2nd Secretary of the Lodge, taking over directly after the consecration meeting and discharging those duties for 5 years, before coming the 8th Master of the Lodge 1910-1911. After a year as IPM, he went back in as Secretary for a further 2 years.
The register shows that he was struck off the list of members 1st January 1917 under Rule 175 Book of Constitutions. It is difficult to think that a Founder member and one who had provided much service to the Lodge as Master and Secretary would just leave not paying subscriptions. It is either going to be that Richard had been upset by something that happened in the Lodge, or perhaps moved away. Noting that a year later his name pops up in Uxbridge and remarrying, it is more likely to be the latter and that he just let his dues lapse.
Masonic Milestones:
L1449 E.C. Royal Military Lodge

Initiated: 11th May 1885
Passed: 8th June 1885
Raised: 10th August 1885
Grand Lodge Certificate: 6th November 1885

L1994 E.C. Malwa Lodge, Bombay 20th February 1889
L413 E.C. Lodge of Hope, Meerut 7th December 1889
District Grand Lodge Certificate 10th June 1890 at Malwa Lodge
L2976 E.C. Comrades 6th August 1903-1st January 1917 (Struck Off)
Footnote: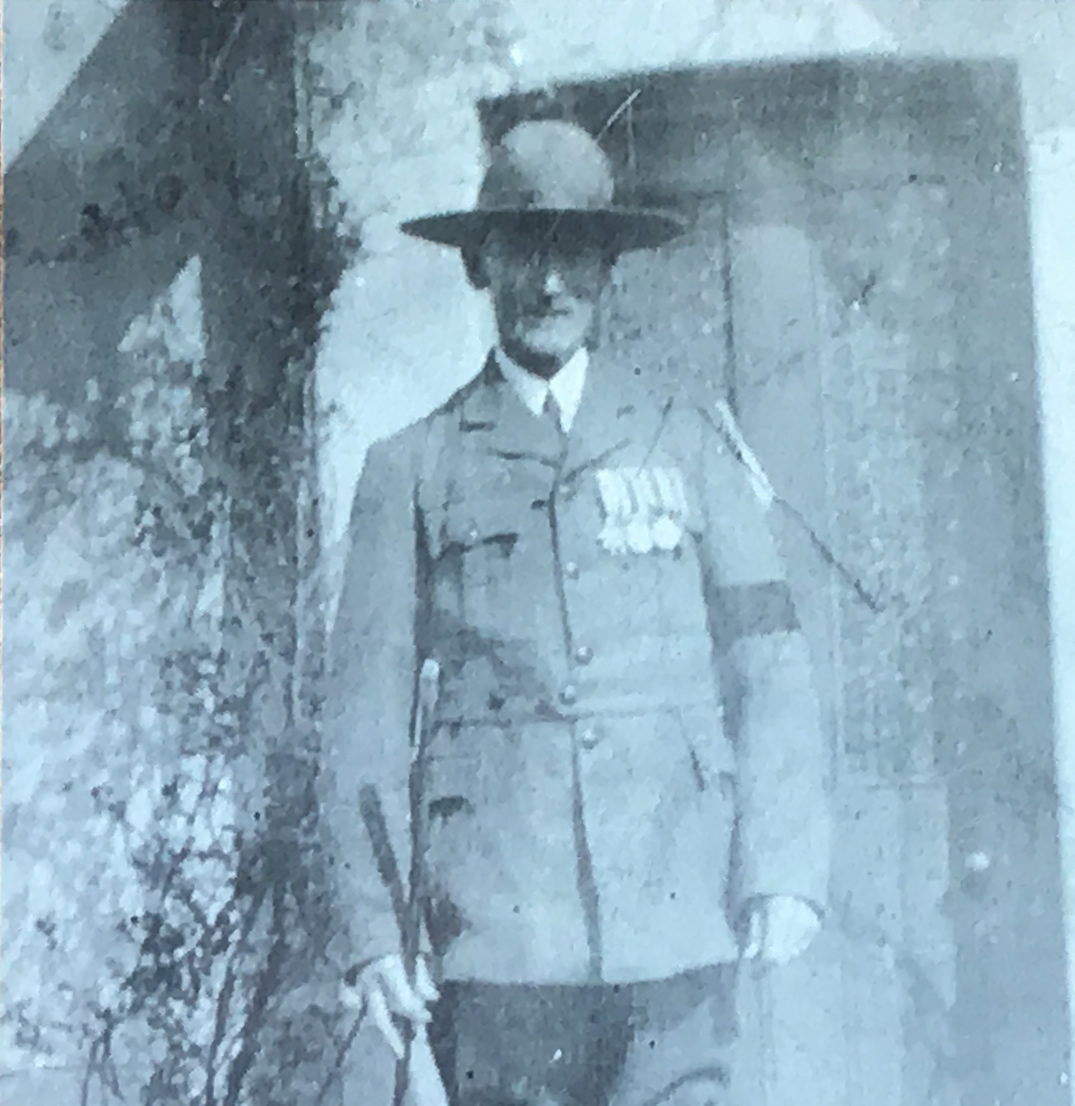 The Lodge's sincere thanks go to Ann Ripley of Montreal, Quebec, Great-granddaughter of Richard Dalton, who has been able to confirm most aspects and provide further familial information and also Alma Ibbs, also with family connection and resident in New Zealand.
The image, here courtesy of Alma Ibbs, shows Richard wearing a black armband on a uniform which bears resemblance to the ANZACS or Scouting Movement, carrying a cane and wearing what could be Pip, Squeak and Wilfred (1914-15 Star, British War and Victory medals, which we know he was awarded.
Ann Ripley mentions that her mother told her that Richard Dalton Simms was Secretary to Lord Baden-Powell. Although there doesn't seem to be a way of proving this, Lord Baden-Powell was reported not to be a member of the Craft, but would have come across Freemasons and Masonic Lodges in South Africa and other parts of the empire. He would also have come across 5th Royal Irish Lancers. But, on the other hand, Richard's career does not suggest he was administrative apart from the Barrack Warden element; but we do note that he was a good lodge secretary.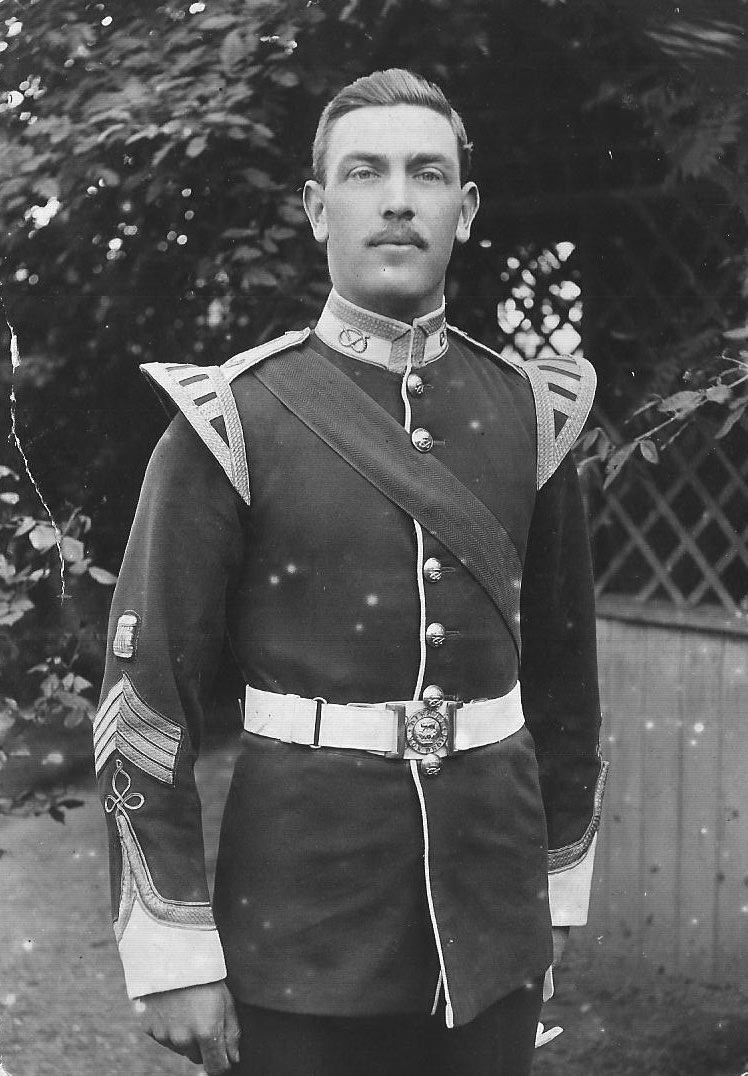 Son: CSM William Henry Simms