COMPILED BY A COMMITTEE OF THE LODGE, UNDER THE GUIDANCE OF W.BRO. L.L. THOMPSON, P.M., SECRETARY
PRIVATELY PRINTED FOR THE LODGE BY W.F. JONES, BARRACK STREET PRINTING WORKS COLCHESTER. – 1953
---
Comrades Lodge No. 2976
THE UNITED LODGE, No. 697, sponsored a daughter Lodge early in 1903 to meet the needs of Service men of this Garrison town, accordingly an inaugural meeting was held on the 8th of May, 1903 to consider requirements and make the necessary arrangements.
W. Bro. Bertram Edward Essex, P.M. of Lodge 1926 (P.D.G.D.C. Malta) was unanimously elected as Chairman of this meeting and subsequently Master elect of the new Lodge.
Several names were submitted to choose from, including that of "Comrades" proposed by W. Bro. John Bilton, P.M. This name was selected as the best and approved. The 3rd Monday in every month was chosen as the meeting day. The place of the meetings chosen being the Colchester Masonic Hall.
Twenty-five Founders names are recorded in the minutes, as follows:
| | | | | |
| --- | --- | --- | --- | --- |
| W. | Bro. | BERTRAM. E. ESSEX | P.M. | Lodge 1926 |
| W. | Bro. | WILLIAM MICHAEL RODDY | P.M. | Lodge 107(IC) |
| W. | Bro. | JOHN BILTON | P.M. | Lodge 1536 |
| W. | Bro. | Major G. WATERMAN | P.M. | Lodge 413 |
| W. | Bro. | Capt. C.H. PRESTON | P.M. | Lodge 563 |
| W. | Bro. | JOHN A. WILSON | P.M. | Lodge 1424 |
| W. | Bro. | GEORGE HARE LISTER | P.M. | Lodge 2444 |
| | Bro. | A.H. ROWLINSON | | Lodge 1890 |
| | Bro. | GEORGE REID | | Lodge 483 |
| | Bro. | WILLIAM LORRAINE | | Lodge 697 |
| | Bro. | RALPH C. TAYLOR | | Lodge 151 |
| | Bro. | ARTHUR WILLIAM BOND | | Lodge 1331 |
| | Bro. | JAMES BLACKMORE | | Lodge 1926 |
| | Bro. | A.T. MEARS | | Lodge 1923 |
| | Bro. | ARTHUR T. WALSTOW | | Lodge 153 |
| | Bro. | JOHN J.B. RAMPTON | | Lodge 1923 |
| | Bro. | FREDERICK BOWSTEAD | | Lodge 2736 |
| | Bro. | AMOS HALLS | | Lodge 697 |
| | Bro. | EDGAR G. WOOLNOUGH | | Lodge 2597 |
| | Bro. | THOMAS ADAMSON | | Lodge 1341 |
| | Bro. | GEORGE BURRIDGE | | Lodge 2436 |
| | Bro. | ALFRED MITCHELL | | Lodge 1066 |
| | Bro. | A.J. GRIFFIN | | Lodge 697 |
| | Bro. | WILLIAM WELSH | | Lodge 697 |
| | Bro. | R.D. SIMMS | | Lodge 1449 |
W.Bro. W.M. RODDY was elected as first Senior Warden.
W.Bro. WILLIAM LORRAINE was elected as first Junior Warden.
Bro. GEORGE REID was elected as Secretary.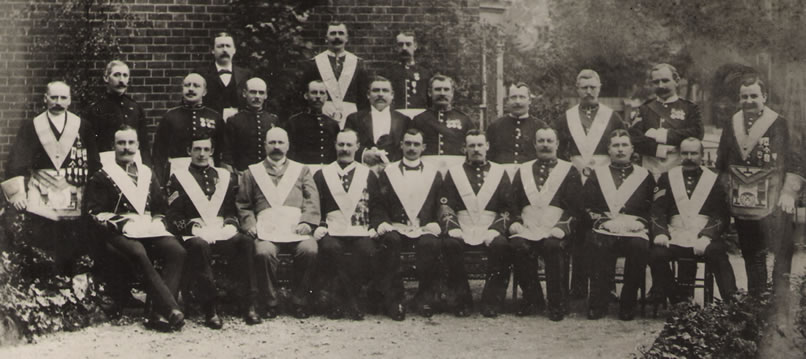 The petition for a warrant was submitted to United Grand Lodge of England and promptly granted.
The necessary formalities and preparations were soon accomplished and Comrades Lodge No. 2976 was duly Consecrated on the 6th day of August, 1903, at Masonic Hall, Colchester, by Col. Mark Lockwood, M.P. P.G.D., Right Worshipful Provincial Grand Master of Essex, assisted by the following Provincial Grand Officers:-
| | | | |
| --- | --- | --- | --- |
| W. | Bro. | E. ASH BALL | Provincial S.G. Warden |
| W. | Bro. | R.T.H. BAILEY | Provincial J.G. Warden |
| W. | Bro. | Rev. H.J. SHILDRICK | Provincial G. Chaplain |
| W. | Bro. | T.J. RALLING | Provincial G. Secretary |
| W. | Bro. | ALBERT LUCKING | Provincial G. D.C. |
| W. | Bro. | J.C. TURNER | P.P.S.G.W |
| | Bro. | R.J. MITCHELL | Provincial G. Organist |
| | Bro. | CHARLES WOOD | A.R.C.O. Angel Lodge 51 |
W. Bro. BERTRAM E. Essex was installed as W.M. by W. Bro. T.J. RALLING Prov. Gd. Secretary.
W. Bro. Major GEORGE WATERMAN was invested as I.P.M.
The Worshipful Master then invested the under-mentioned as the first Officers in this Lodge:-
| | | | | |
| --- | --- | --- | --- | --- |
| W. | Bro. | WILLIAM MICHAEL RODDY | as | Senior Warden |
| | Bro. | WILLIAM LORRAINE | as | Junior Warden |
| | Bro. | RALPH C. TAYLOR | as | Treasurer |
| | Bro. | GEORGE REID | as | Secretary |
| | Bro. | THOMAS ADAMSON | as | D.C. |
| | Bro. | A.H. ROWLINSON | as | S.D. |
| | Bro. | A.J. GRIFFIN | as | J.D. |
| | Bro. | A.T. WALSTOW | as | I.G. |
| | Bro. | G. BURRIDGE | as | Steward |
| | Bro. | T.MEARS | as | Steward |
| | Bro. | W. WELSH | as | Steward |
| | Bro. | A. WRIGHT | as | Tyler |
The Installation Ceremony was followed by a banquet presided over by the W.M. supported by the R.W. Prov. Gd. Master and the consecrating Officers. The R.W. Prov. Gd. Master expressed his pleasure at seeing such a brilliant array of Service uniforms and gave a very inspiring address to the members of this new Comrades Lodge.
The ceremony was fully reported in the Press locally, of which there is a copy attached in the Minute Book ; such a practice is no longer encouraged, or indeed permissible.
Comrades Lodge soon got down to work and held its first Regular meeting on 17th August, 1903, when eleven candidates for initiation, and ten joining members were balloted for. The second candidate on the list of Initiates was Colour-Sergeant James Hearn of the Suffolk Regt. Now well known to us all as W. Bro. Capt. J. Hearn, P.M. P.P.G.D., our Director of Ceremonies now for a total period of 13 years. This brother is only 82 and seldom misses a Lodge meeting.
The confidence of United Lodge, No. 697, in their daughter was soon apparent from the records and reflected in the honour conferred on its first W.M., W. Bro. Bertram Essex, during his Mastership when the R.W. Prov. Gd. Master appointed him Provincial Grand Junior Deacon.
W. Bro. Claude Egerton Green, Deputy Provincial Grand Master, paid a visit to the Lodge during its year and was welcomed.
The Lodge was again favoured with a visit from the R.W. Prov. Gd. Master on its first birthday, when he complimented the W.M. on the progress made.
In 1905 this Lodge made a start in its Charitable work in contributing 25 guineas to the Royal Masonic Institution for Girls, whose annual Festival was presided over by Col. Mark Lockwood, M.P., Right Worshipful Provincial Gd. Master of Essex.
During the earlier years of this Lodge the influx of Service personnel was heavy, consequently every endeavour was made to meet their needs. This resulted in the Lodge often working three degrees at one meeting, a practice now discouraged as not in the best interest of Freemasonry.
In 1908, Bro. George Wells became a joining member of this Lodge, now well known to us all as W. Bro. Capt. G. Wells, P.M., P.P.G.W., now our senior Past Master, only 83, and a fine example to follow.
Around this period of this life of this Lodge the records are somewhat sketchy, scarcely conforming to minimum requirements or to regulations, so are of little value of the purpose this Committee is engaged on.
In 1909 a nominal Roll of all members was printed and circulated as a means of enabling members to keep in touch with each other.
In 1913 Bro. F.R. Duncan was initiated into this Lodge. He has now completed 40 years continuous membership and is best known to us as W. Bro. Duncan in his sphere of Almoner and Charity Representative.
During 1914 the misfortune of war came, causing many brethren of this Lodge to leave the town at short notice for service overseas. Difficulties arose in the roll of officers, but soon gaps were filled. A fresh influx soon arrived and the prevailing conditions caused Dispensations to be applied for to such an extent that they became fetish. The war years took its toll of our members overseas, some never returned, having made the Supreme sacrifice for their country.
The passage of time brough more normal working and a better environment but the nees of the service were still uncertain and members kept on the move.
In 1920 Bro. J. Aylott became a joining member and has now 33 years continuous membership. He is best known as W. Bro. J. Aylott, P.P.G.Sw.B., and Almoner and Charity Representative for eight years previous to his leaving the area some two years ago.
During 1925 the Colchester Lodges formed a Masonic Library Committee when W. Bro. Capt. J. Hearn was appointed as the Representative of this Lodge, thus creating a link in each lodge for the benefit of younger brethren who are desirous of extending their knowledge of Freemasonry. This is a valuable service to those interested and is available on request.
An interesting item to local brethren was the Thomas Ralling Memorial in memory of this distinguished W. Bro. for the grand part he played as Prov. Grand Secretary for this province and his great help given to this Lodge in its early life.
Around this time it was the custom for the Prov. Grand Lodge to hold its annual meeting in different parts of the province, sometimes at the residences of the Provincial Gd. Masters, whose invitations were always eagerly accepted, and whose kindly hospitality was greatly enjoyed, or at the large towns where this Lodge was always strongly represented, generally going as a party by bus. This custom was eventually stopped, because the growth of Essex Masonry is now beyond the limits of any available accommodation, hence the necessity of holding these annual meetings in London.
In 1932 the Colchester Masonic Hall Co. Ltd., invited all Colchester Lodges to take a financial interesting the Company, allocating a Directorship to each lodge.
This position has been occupied now for some years by W. Bro. J. Lindsay, P.P.G.D.
During 1933 this garrison was very depleted, thus affecting the number of candidates seeking entry to the Lodge, so after careful deliberation, it was agreed to alter the By-laws, so that civilians could be admitted to the Lodge for the first time. This enabled brethren to propose relatives into their own Lodge. Some misunderstanding arose in consequence, but in time the change worked quite satisfactorily to the benefit of the Lodge.
By 1937 the Lodge decided to have a Royal Arch Chapter and made a formal request for a Charter. This was granted and Comrades Chapter No. 2976 was duly Consecrated in 1938 and since proved itself worthy of the trust in this important order of Royal Arch Masonry.
The lack of Masonic teaching and practice withheld from certain countries, coupled with the suppression of Christian beliefs brought fresh international troubles to the Universe in 1939, in the form of World War No. 2, causing frustration to many lodges including our own. Again many of our members were sent overseas on active service, whilst others were called to duty in the various spheres of national service at home, thus causing loss of opportunity of progress to some and anxiety to others in filling vacancies.
In 1940 this Lodge was obliged to elect a P.M. to occupy the W.M.'s chair for a second time, the third occasion this has been necessary in our 50 years experience. This fell to the only available P.M., W. Bro. J. Aylott, P.P.G.Sw.B., as the other P.M.'s were engaged in some form of national service at that time.
During the war period this Lodge had the same experiences as that of the 1914-18 war, and influx of candidates, some of them by the nature of the times, of a transitory type.
The cessation of hostilities and the return to more normal times has left the Lodge without knowledge of the whereabouts of several of its members, so that whilst conforming to directives issued by United Grand Lodge we have no authentic knowledge of some, and have to assume the worst.
In that ever important part of Masonic work, "Charity to our fellow men" as it should be practiced in our daily lives, though little spoken of, Comrades Lodge has not been remiss. Records show ample evidence of this. The summonses regularly received show this Lodge as Patron of the four principal Masonic Institutions, whilst server members have very creditable records also. The most recent effort of this kind was in 1951 in support of the Royal Masonic Institution for Boys, when the contribution was £1,167. On this occasion their annual Festival was presided over by W.Bro. Dr. A.G. Duncan, P.G.D. our Deputy Provincial Gd. Master, in the most unfortunate absence through illness of our esteemed R.W.Prov.Gd. Master, R.W. Bro. Sir Frederick Senier, J.P., P.G.D. whose death soon afterwards was a sad loss to this province. In furtherance of this part of our work, the Lodge has decided to assist the Royal Masonic Hospital in the very excellent work it undertakes (as a practical gesture, on completion of its 50 years activity). Every member has been informed of this and a fund has been opened under the care of W. Bro. J. Lindsay who was the sponsor of the idea. It is hoped that our W.M. will be in a position to report progress on the results at our Jubilee meeting in September. The Lodge was also contributor to the "Colchester Care of the Aged Fund" so near to the hearts of many in this town, as a very necessary and deserving cause.
For the past 13 years a "Ladies Night" has been an annual event, being a strictly social affair largely restricted to members' families and friends, thus giving our Ladies one night at least to forget the trial of domestic environment. These Socials vary according to directives of the W.M. (and his committee, who are chosen from the younger generation).
In 1950 the Lodge sponsored the formation of a Daughter Lodge, subsequently followed by the Consecration of COLCESTRIA Lodge No. 7123, on the 16th February 1952, when our esteemed Treasurer W. Bro. Major H.C. Keating, P.D.G.W. (Malta) was installed as its first Master. Its is understood this daughter is now feeling her feet in the normal way.
Comrades Lodge records show that during its 50 years 793 brethren have been registered as members, of this number there are today 187 responsible for the payment of dues. Thus it is apparent that apart from the normal losses, which are inevitable, the nature of our original composition lends itself to a somewhat transitory membership. The present By-Laws will gradually alter this in due course. Many members have fallen in the service of their country, and on occasions like this (a milestone in our history) in the quietude of our home and at our festive board, "Let us remember them" and give thanks to the TGAOTU for favours already received. Records also show that other sere more fortunate in having received some recognition of their various forms of service, as our Membership Roll includes recipients of the undermentioned awards:-
(1) Order of the British Empire; (5) Members of the British Empire; (4) Military Crosses; (1) Distinguished Flying Cross; (4) Distinguished Conduct Medals; (1) Distinguished Flying Medal; (2) Military Medals; (1) British Empire Medal; (4) Mentions in Dispatches.
During the early 1930's Comrades Lodge were introduced to Essex United Services Lodge No. 3084 which is composed largely of Royal Naval personnel and associated groups, this resulted in an interchange of visits in strength between the two lodges. These visits continued until restrictive regulations prohibited them in wartime. Fortunately they were recommenced since, and have prevailed until the recent misfortune of the flooding of the Masonic Hall at Harwich which renders it untenable.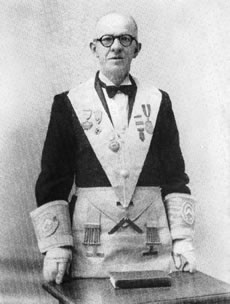 From the list of Founders recorded in the early part of this history, we are blessed to have two still with us, namely, W.Bro. Major Burridge, P.M. and Bro. W. Welsh, both of whom have now completed 50 years membership, and to whom we offer our heartiest congratulations. A list of the names of very member who has served as an officer of this Lodge (in any capacity) is included in the folded sheet as the end of this booklet. There is also a nominal roll of Members with present addresses known to our Secretary. The photographs of this booklet, your Committee do not claim perfection, so if any mistake of consequence has been made we will be grateful to be informed of it so that it can be remedied. It is well to record that this Lodge has always made a presentation of a Past Masters Jewel to ever Master on completion of his year of W.M. and this has been brought up to date without exception. It will also be of interest for all to know that a number of Jewels are now displayed in the ante-room of the Masonic Hall, donated by the relatives of W.Bro. Roddy.
Your committee also put on record their thanks and appreciation of the work of the Pioneers of this Lodge who strove so hard to ensure its finances would never be found wanting.
In conclusion we are also of the opinion that the need for the practice of the principle of Freemasonry are now greater than they were 50 years ago.
We also extend our thanks to our Secretary W. Bro. L.L. Thompson, for his valuable help in this work. In his multifarious duties as Lodge Secretary he is ever ready to assist in any way, his beautiful writing has made our work a pleasure to read, and we are will aware of that tendency for members to take it for granted, being in large measure unaware of all it entails in a Lodge of this size. Hence we commend to all the practice of Brotherly Love, Relief and Truth. Your prompt attention to any change of address or other relevant circumstances would assist our Secretary in his work and ensure that your letter, etc., are sent to their proper destination. This would be of immense help and much appreciated.
W. Bro. L.L. Thompson
August 1953