27th Foot (1st Royal Inniskilling Fusiliers)
The information and images within this legend has been jointly researched but attributed to Thomas' Great-grandson – abdu'Rashid Craig. The Lodge's thanks are with him and his family for this collaborative entry, permission to use the images and his further work on other Lodge members.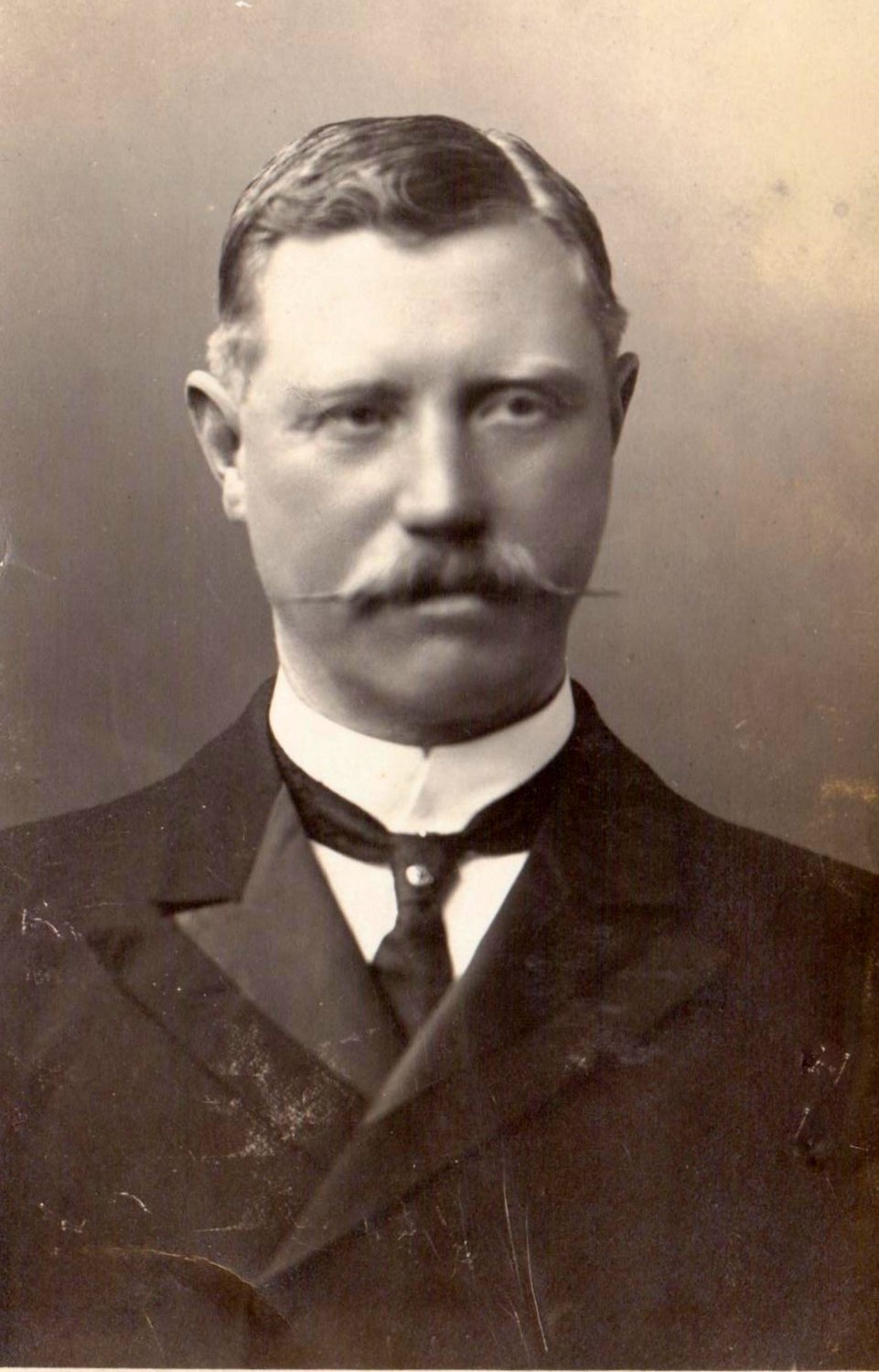 Born in Ireland c. 1856 to father, Thomas who was a Pensioner of the 99th Regiment by the time of his son's marriage. Note that, as with many Victorians who record their age, he seems to contradict birth year. If we are to take Thomas at age 55 in 1910 at year of death as recorded on the grave, he was born c. Q3/Q4 1855. However, he is recorded on two different occasions contradicting this: According to a register for Lodge in Hong Kong 1879, he was 23; on the census in 1891 he was 34, making year of birth 1856 and 1857 respectively. Further research into his birth by family concur with 1856/7
Thomas married Cecilia Anne (nee Gulston) of Darling Street, Enniskillen, Northern Ireland on the 9th October 1883. The Church of Ireland service was held under license at the Parish Church, Enniskillen. Thomas' age was described as "Full" which means over 21, whilst she a spinster was aged 19. Her father is Charles Gulston, late Quartermaster and Captain of 3rd Battalion R.I.F.
In 1891, the family is recorded together at 21 Hambrook Street Portsea. He is 34 and residing with Cecilia (26), Evelyn (6), Florence (4), Edith (2) & Violet (5mths). The latter two were born in Ireland so between 1889 and 1891 they were stationed there. Florence was born in Aldershot around 1887. Evelyn was also born in Ireland, so Thos. and Cecelia were stationed more than once in the land of their infant nurture.
At the time of the 1901 census they have moved to what is described as 27, "Staff Quarters". This is around St. Giles Church, on St. Johns Green, so perhaps a military designated house in the locale (it bordered the garrison). The children with them are Evelyn (16), Florence (14), Edith (12), Aileen (8) and Albert (2 Mo). On this census Aileen is born in Dover, Kent. By 1903, which Thomas is a member of Comrades Lodge the address changes slightly to 26 St. Johns Green.
By 1911, the census shows Cecilia as Head of the family and Manageress of the Hotel. Aged 46 and widowed she is running the Waggon and Horses with family Edith Lillian (22), Aileen Blanche (18), Albert Hugh (10) & Charles John (5). On the census it records that there were eight children with Thomas, but only six survived. Evelyn appears to have flown the nest. Looking back it seems that Violet did not survive and, as recorded later on Thomas' grave – Thomas Frederick was born and died between 1901 and 1910 when aged 5.
Family:
Cecilia Jane Gulston 1864- 1958 Cecilia was born in Dublin in April 1864. Her father Charles, a Londoner, formerly of the 12th Foot (East Suffolk Regiment), was 'on loan' (sic) as Quarter-Master to the Enniskillen Militia, who later were to become the 3rd (reserve) Battalion RIF. She was one of eleven surviving siblings and also had a half-brother from her father's previous marriage. Her mother, Susan Keegan, was from County Wicklow in Ireland, and she and Charles had married in South Africa. Cecilia outlived Thomas by 48 years. They had eight children of whom two died in infancy. All of them but her youngest were born in Military quarters: Evelyn May: 1884-1923 Evelyn, the oldest, was born in Enniskillen in September 1884. In 1901 she was a pupil teacher. In 1906 she married a Boer War veteran, Sergeant Major Fred Dale of the Kings Own Scottish Borderers (See 114th Member of Comrades Lodge). Two of their children were born in Egypt and the youngest in India. Fred was commissioned in WW1 and served in Gallipoli and on the Western Front. He was awarded the Military Cross in the January 1918 honours list, and, postwar, the Military OBE. Evelyn died in Wandsworth 1923.
Florence Alice: 1886 – 1959 Florence was born in Aldershot in July 1886. She married QMR Sergeant Major Charles J Aris of the 5th Lancers in October 1907, another Boer War veteran. The couple had one child, Charles, who was born in 1913 while the regiment was stationed in Ireland. Sergeant Major Aris was commissioned on 1st October 1914. On 16th October his Squadron was ambushed by German cavalry. There ensued an action during which he was twice wounded and was subsequently awarded the Distinguished Service Order. Post-war, he became Adjutant and subsequently Commandant of the Army Equitation School at Weedon Bec. Florence died in Colchester in 1959.
Edith Lilian 1888 – 1974 Lilian was born in Omagh in December 1888. In December 1912 she married QMr Sergeant Major Arthur Richard Newling of the 8th Hussars, in Calcutta. Also a veteran of South Africa, he too was commissioned at the outset of WW1. He served in France and Belgium and was in the first contingent of British troops to enter Germany after the Armistice. Post-war he served in Ireland during 'the troubles' - a period the British Authorities would rather have forgotten, hence it did not qualify for a service medal. He was transferred to the Royal Dragoons in 1923. He was Adjutant of the Royal Military School of Music at Kneller Hall from 1927 to 1934, and was awarded the Military OBE (date?) (Masonic?). He then went to the War Office where he worked till his death in 1941. Lilian died in Hove in 1974.
Violet Winifred: 1890 – 1891 Violet was born in Belfast in December 1890. Sadly she died the following year. Aileen Blanche - 1893-1963 Aileen was born in Dover in January 1893. She never married, and lived with her mother after her father died. Family anecdote holds that she had a fiancée who was killed in the Great War. While this is plausible, since so many young men died prematurely in that conflict, the same used to be said of practically every spinster lady of her generation. She herself died in Eastbourne in September 1963.
Thomas Frederick: 1895 – 1899 Thomas Frederick's birth was registered in Dublin South in the first quarter of 1895 and his death was registered in Colchester in the last quarter of 1899, so he does not appear on any Census record. There is a poignant memorial to him on his father's gravestone in Colchester Cemetery.
Albert Hugh: 1901- 1984 Hugh was born in Colchester in February 1901. He signed up as a boy soldier in the RIF at age 14, and served in India and the Far East during the inter-war period. In 1934 he married Elizabeth O'Loughlin, an Irish Catholic girl who was living with her father in Hampshire. When he left the regular army, he had a short stint in the Ulster Constabulary but was forced to resign, according to the family, because of sectarian prejudice. During WW2 he served in the MoD Police, and later in peace-time became an NSPCC Inspector (in those days they wore police style uniform). After retirement he and Elizabeth lived in the family house in Clacton on Sea. Like his father, Hugh was a committed Mason and became Grand Master of his Lodge in Clacton during this period. He died in 1984.
Charles John: 1903- 1992 Charles was born in July 1903, as far as can be determined actually in the 'Wagon & Horses' in Colchester. He was the only one of Thomas & Cecilia's children not born in military quarters, as his father retired from the Army in that year.
Military Legend
Thomas enlisted in the 27th Regiment of Foot, most likely around 1874-5, unless he was a boy-soldier. Unfortunately his service record is missing, probably a casualty of the Blitz (Burnt Records), so this is another thing which cannot be exactly determined. The regiment was garrisoned in Ireland at that time but transferred to Malta in 1876.
We first pick up Thomas in Hong Kong in 1879 where, in the records of United Service Lodge No.1341 E.C., he is recorded as a Sergeant.
In July 1881, as a result of the Childers reforms begun in 1870, the "Twenty-Seventh" became the 1st Battalion Royal Inniskilling Fusiliers, with the 108th (Madras Infantry) Regiment of Foot as the 2nd Battalion. The inference of the Hong Kong Lodge records is that he was transferred to the 2nd Battalion which was in Ireland at the end of 1882, a year or so before the 1st Battalion was redeployed from Hong Kong to Singapore and the Straights Settlements.
In October 1883 Colour Sergeant Adamson, now serving with the 2nd Battalion in Belfast, was married to Cecilia Anne Gulston in Enniskillen Parish Church. Cecilia was daughter of Captain Charles Gulston, Quarter Master of the 3rd (reserve) Battalion RIF, a veteran of the Xhosa Wars in the Eastern Cape. Over the next 20 years Thomas and Cecilia had at least eight children of whom six survived into adulthood.
In the absence of his service record and other definitive evidence it is difficult to establish exactly where Thomas served between the time of his marriage and his retirement from the Army, although the Regimental Diaries for the period, if they still exist, might resolve some of the mystery. Sergeant Major Thomas Adamson of the RIF was certainly quartered with the 1st Battalion at the time of the 1891 census, when he was living with his family in Portsea, though it is not completely inconceivable he was on leave from overseas. The 2nd Battalion was deployed in India at the time. In 1901 Sergeant Major Adamson was on the staff at Colchester Barracks. From the photograph of him in his No. 1 uniform, probably taken around that time, he has two service medals, but the resolution is inadequate to tell us what these are.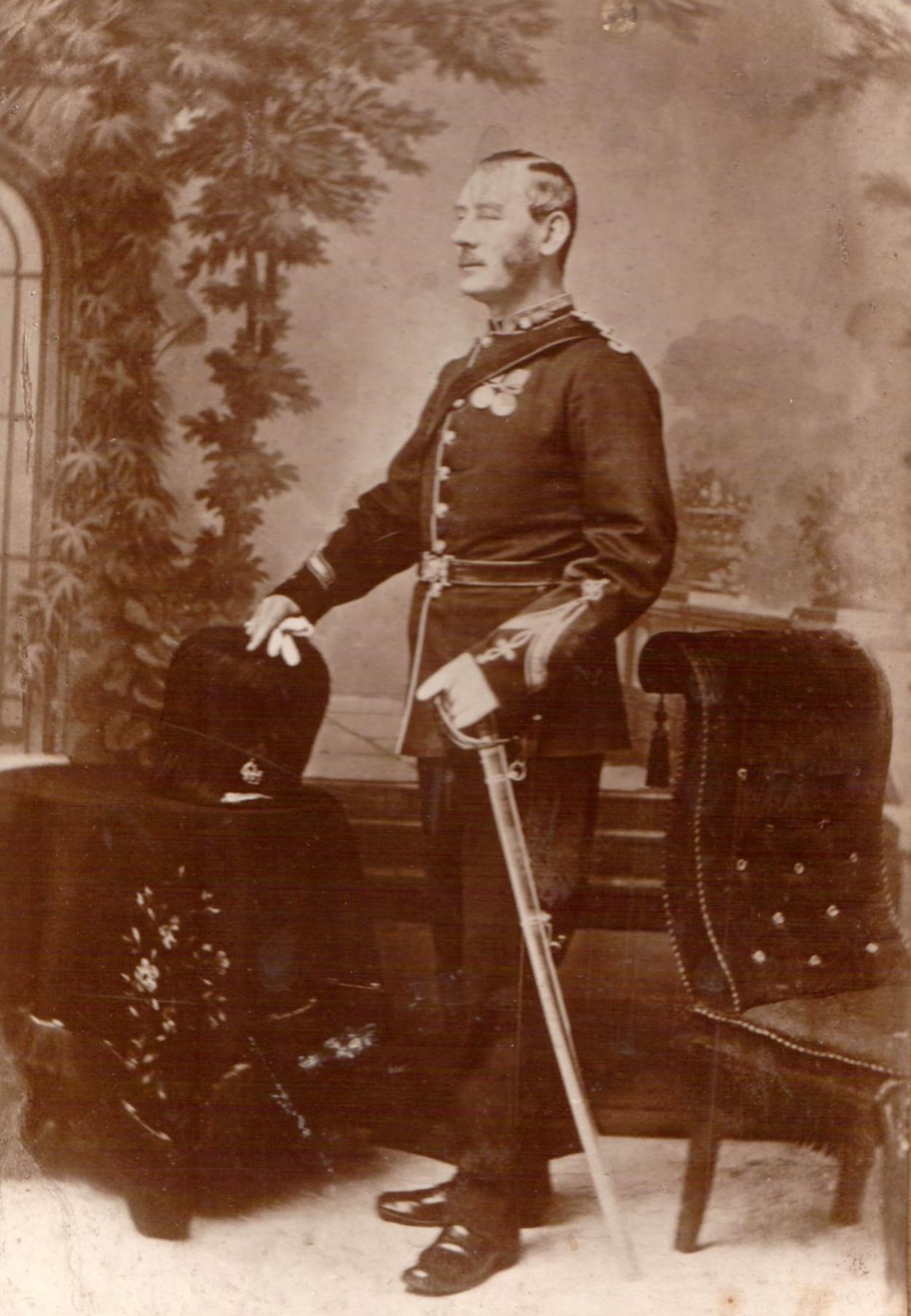 The places and dates of birth of his children give us some other possible clues to his whereabouts. All except the youngest were born in towns where one or other of the 1st and 2nd Battalions had been based, though not necessarily in the years concerned. For example Enid (who always used her middle name, Lilian) was born in Omagh in December 1888. This was the Regimental Depot but also where her mother's parents were living. Violet was born in Belfast in 1890, where the 2nd Battalion had been based seven years earlier, and where Cecilia's parents moved after her Father's retirement from the Military. Eileen was born in Dover in 1893, which was a garrison town and major point of disembarkation overseas. Thomas Frederick was born in 1895 in Dublin South.
The 1st Battalion was in South Africa between 1886 and 1889, and was there again from 1899 - 1902. The 2nd Battalion had already been posted to India in 1888, and fought various engagements there and in Burmah over the next eleven years, notably the Tirah campaign on the North West frontier. If Thomas was with them for the duration he would have been entitled to both India medals. Given his age and the fact that he was on the staff of the Colchester garrison in 1901, I think it unlikely that Thomas took any active part in the 2nd Boer War (1899-1902).
Military Milestones:
• 187? Enlisted some time before 1879, perhaps c. 1874-5 • 1879 Sergeant, 27th Regiment of Foot, Hong Kong (United Service Lodge Register) • 1881 The 1870 reform changes 27th Regiment to 1st Bn and 108th Regiment to 2st Bn Royal Inniskilling Fusiliers. Although it seems that Thomas is in Hong Kong from 1879-1882, he may have transferred over to (or just serving with) the 2nd Battalion • 1883 Colour Sergeant, 2nd Royal Inniskilling Fusiliers at Belfast Barracks (Marriage Certificate) • 1891 Sergeant Major Royal Inniskilling Fusiliers (Census at Portsea – perhaps with 1st Batallion) • 1901 Staff Sergeant Major (Garrison Staff) – (Census) • 1903 Staff Sergeant Major (Garrison Staff) – (Comrades Lodge Register)
The Waggon and Horses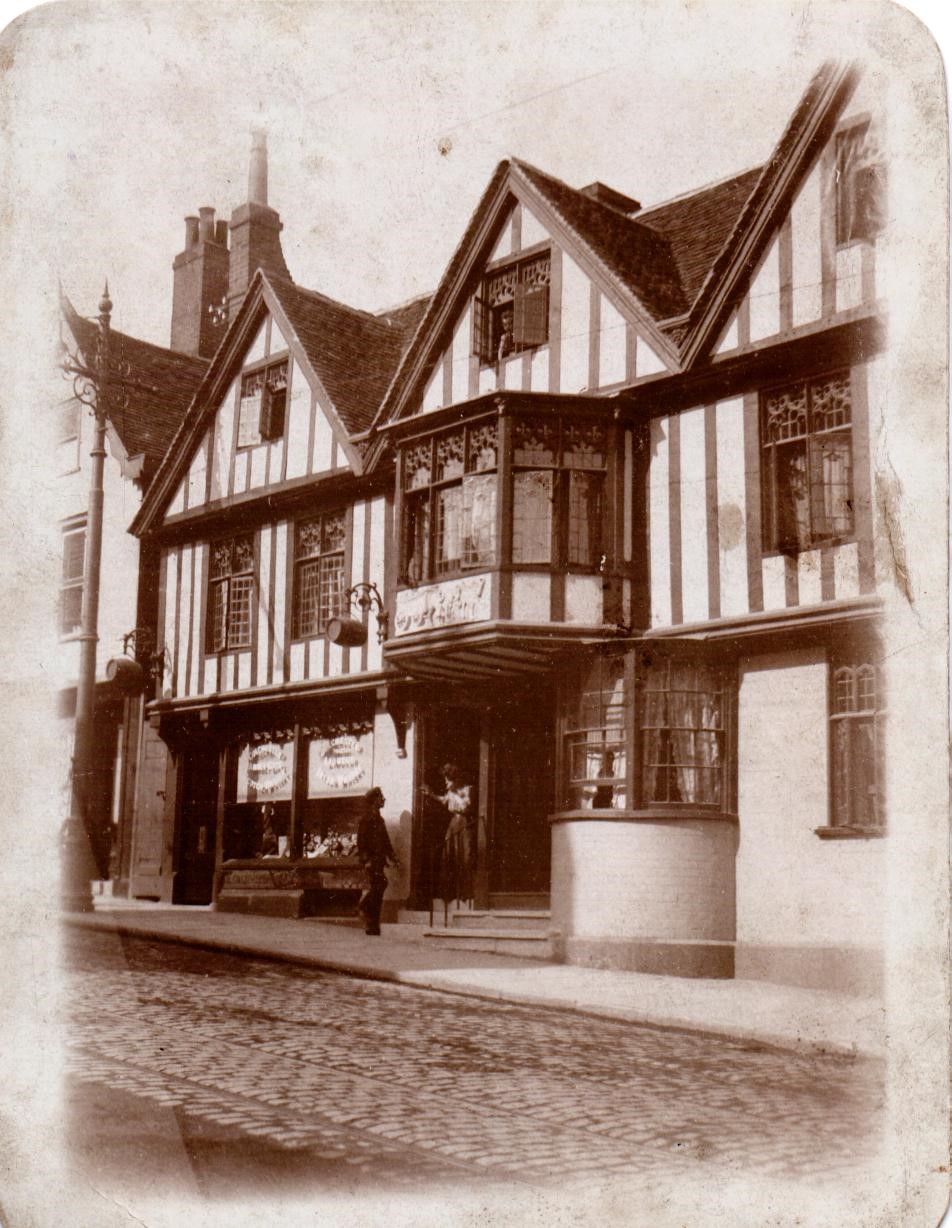 Thomas retired from the Army in the summer of 1903 and became licensee of The Waggon and Horses, a small inn located at the top of North Street in Colchester. The Waggon became the family home. As well as family recollections, various listings in Trade directories during subsequent years confirm this. The business was more than just the pipe dream of an old soldier; Cecilia's family had a long association with the pub trade. Her grandfather and great grandfather had both been Licensed Victuallers in Westminster, and her father had been a pupil at the Victuallers school in Lambeth. She and their older daughters assisted Thomas with the enterprise.
The Waggon was a 'very respectable' establishment in those days, at least according to family tradition, and evidently a watering hole for senior Warrant Officers passing through Colchester Garrison. Three of the girls married WO1's while it was under Adamson management (with two at least becoming members of Comrades Lodge). When Thomas died in December 1910 Cecilia took over; in the 1911 Census she listed her occupation, rather grandly, as 'Hotel Manageress', and Lilian's as her Assistant. There were all of three paying guests in residence at the time, a fishmonger, a cabby and a gentleman of independent means from New Orleans! The census also indicates she was an employee and did not own the premises. She was still registered in Kelly's 1912 Directory, but may not have continued to work there for long after 1913 when Lilian went to India to get married. Kelly's 1917 Directory lists another licensee.
The old Waggon and Horses still survives as a licensed establishment, but not in name. Photographs show that the building as it was in Thomas and Cecilia's day has been extensively made-over several times, including some drastic alteration of the profile of the roof and frontage no doubt assisted by the Luftwaffe. Today it is 'Pat Molloy's' - an ersatz Irish Theme Pub with all the mandatory trappings. Just as well the staunchly Unionist Thomas and Cecilia are no longer around to see it. But at least it's still trading.
Masonic:
L1341EC United Service, Hong Kong – 8th November 1879 to 31st March 1882 (withdrawn)

Initiated 8th November 1879 into United Service Lodge, Hong Kong.
Passed 19th December 1879
Raised 17th January 1880 (District GLC 675: 23rd December 1880)

L2976EC Comrades Lodge, Colchester – 3rd June 1903 to 12th December 1910 (upon death)
Thomas was initiated on 8th November 1879 into United Service Lodge, Hong Kong. There is no intermediate record of his Masonic activities until 3rd of June 1903, when he became one of the founder members of Comrades Lodge, Colchester, immediately before he retired from the Army. Because of the strong Irish connection it is possible that he had joined Lodge(s) within the Irish Constitution.
He was one of the 18 petitioners not named individually on the Warrant of Constitution. At Lodge consecration was invested as the first Lodge Director of Ceremonies. He was not an Officer in 1904, but was further invested Junior Deacon (1905), Senior Deacon (1906), Junior Warden (1907) and Senior Warden (1908) before becoming the 7th Worshipful Master of the Lodge 1909 – 1910. As such his signature appears under the progressive signature list on the reverse of the Warrant.
Thomas was unable to attend the meeting to install his successor in November 1910 as a serious progressive illness took hold and prevented his attendance in the latter part of his year as Master. He unfortunately died shortly after on 12th December 1910. He is interred at Colchester Cemetery.
Probate at Ipswich shows that Thomas Adamson of the Waggon and Horses Hotel Colchester hotel proprietor died 12 December 1910. His will was to his widow Cecelia Anne Adamson and, granted 25th January 1911 - Effects £569 14s