Rifle Brigade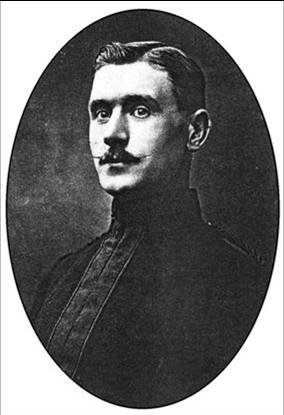 Registered born Jan-Mar 1886 in the Parish of St. Olave, Southwark and was son of Thomas Bennett & Martha Elizabeth Halliwell of 11 Thurland Road, Bermondsey. His sister Martha Elizabeth Halliwell born 1888 but sadly died by end of the year. William Halliwell was born at Rotherhithe, Kent in January 1886 and attended St. Olave's Grammar School in Southwark until being compelled to quit his formal education at the tender age of 14 years. His school master wrote: 'That the extension of this boy's scholarship offered him by the County Council should be refused by his father is much to be regretted. Further scholar training would certainly fit the boy for a much better position than can now be open to him.'
Halliwell elected to become a regular soldier and became No. 228 Halliwell serving with 1st Battalion, The Rifle Brigade (Prince Consort's Own). He was elevated in rank and was a Sergeant at the time of initiation into Comrades Lodge, being stationed at Meeanee Barracks, Colchester. Shortly afterwards and went on to experience all the horrors and hardships of the retreat from Mons. He also witnessed the famous Christmas truce of 1914, writing home to describe how our men and the Germans exchanged all sorts of things, from food to cigars, and how they had nearly managed to arrange a football match, 'but the English officers vetoed this.' He also described the horrendous conditions: 'The trenches are in general 12 to 18 inches deep in liquid mud, and in some places, 2 to 3 feet of water. "Booby-huts" or funk-holes collapse and the walls of the tenches fall in. My hands, hair, clothes, coats, etc., are caked in mud; only my gum-boots have saved me from being soaked through. The cheerfulness of the men is wonderful, as they have no boots to protect their legs or feet ...'
Listed as 287A (287 is recorded twice) in the Register of Members. A proposition, as a candidate, for initiation is recorded on Page 151 of the Minute book. A month later he was initiated into Comrades Lodge on 17 June 1912 aged 26. The subsequent month saw a passing - 15 July 1912, but raising was held off until later in the year, being recorded as 21 October 1912. Pages 152/153 & 156 (I, P & R).
An informative summary of his wartime career is to be found in a local newspaper obituary notice: "Company Sergeant Major William Halliwell, 1st Battalion, Rifle Brigade, who was killed on 6 July in Flanders, was but a few weeks back the recipient of the Military Cross at the hands of his Majesty the King, the honour being awarded for bravery exhibited in December. It is sad to think that so soon after receiving high honours the distinguished young non-commissioned officer should have met his fate. Sergeant-Major Halliwell, who was 28 years of age, and a son of the secretary of the South-East London Licensed Victuallers' Society, enlisted in the Rifle Brigade 11 years ago, and rapidly rose to the rank of senior non- commissioned officer of his company.
When war broke out he was at once ordered to the Front, and on August 20 went with his battalion, which formed part of the 11th Brigade of the 4th Infantry Division. The battalion heped to cover the retreat from Mons, and was terribly cut up, losing a large number of men. On 19 December [1914], Sergeant- Major Halliwell was again in a severe action, and after two of his men had been killed in an attempt to establish a line of communication to the front trenches, he volunteered and was successful in his attempt, although exposed to a very heavy fire. It was on that occasion that the Master of Kinloss, his Captain, was killed. He was home for a few days in the middle of June [1915], and that leave was extended to enable him to receive his M.C. at the hands of his Majesty on Waterloo Day, 18 June.
The first intimation of the sad event was received by a friend to whom he wrote that on the next day he was to take part in a piece of work more dangerous than any he had previously been engaged in. He added, 'I do not expect to come through it alive,' and on the back of the letter he had written, 'I hope you will never receive this I have entrusted it with a friend.' Then his father received his watch, and on Monday morning a private communication came from the Front that at 6.05 a.m. on the 6th [July] Sergeant-Major Halliwell and an officer led a bayonet charge against the Germans in an important trench. He was shot and was ordered to retire. He took no notice, however, and went on, but almost immediately afterwards he was fatally injured. His jaw was penetrated and the bullet passed through his neck piercing the jugular vein. He died almost immediately. Before he left home after receiving the Military Cross, he said, "I shall never come back wounded and I mean to get the V.C." Those who witnessed his bravery on this fatal occasion declare that he eclipsed the efforts which won him the D.C.M. [sic] and that he was most deserving of the honour he coveted."
There are no Service Records to be found and were possibly destroyed in World War II.
Company Sergeant Major William Halliwell was killed in action on the 6th July 1915 in the service of his King and his Country and is "buried near this spot" of a special memorial where his name is commemorated at Talana Farm Cemetery in Boesinghe, Ypres, West Flanders. His name is also commemorated in the 1921 book Masonic Roll of Honour 1914-1918, and in the shrine room at the United Grand Lodge of England Headquarters, Great Queen Street, London.
William Halliwell was awarded the Military Cross, for reasons that are not fully known to us, but the Military Cross is only awarded in recognition of Courage in Junior Officers. Although this is not formally recognised in the 1921 Masonic Roll of Honour, it is detailed on his grave and was printed in the London Gazette on 18 February 1915. He was decorated with this medal on 18th June 1915. The War Record of the 1st Battalion, The Rifle Brigade states that
the above reward was for 'very good work throughout, especially on 19 December [1914].' And in the same month the G.O.C. reported: 'This N.C.O. volunteered to take a message back to 'B' Company during the action after two men had been killed in the attempt and returned immediately to the firing line under heavy fire. He has worked hard and conducted himself gallantly throughout the campaign.' Mention in despatches London Gazette 17 February 1915.
Halliwell's medals were put up for auction in the United Kingdom in 2004. Described as a "superb 1914 operations Great War M.C. group of four awarded to Company Sergeant-Major W. Halliwell, Rifle Brigade, who was killed in action near Pilkem on 6 July 1915 Military Cross, G.V.R., in its case of issue; 1914 Star, with clasp (228 Sjt., 1/Rif. Bde.); British War and Victory Medals, M.I.D. oak leaf (228 A.- W.O. Cl. 2, Rif. Brig.), with related Memorial Plaque (William Halliwell), extremely fine (5) E1800-2200 M.C."
With thanks to W.Bro. Mike McCarthy for providing further insight into this soldier.