Rifle Brigade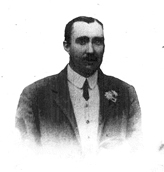 Registered as born in June 1873 he spent his early years in Clarence Road, Alverstoke, near Portsmouth Hampshire . He had 11 Brothers & Sisters (14 in the same household) recorded on the 1881 Census. He is registered as being married in Colchester on 20th April 1908 to Mabel Mary Pettitt, but he had been married previously, his first wife may have died in India. There are three children listed on his service records, Frank (1.11.05 by first wife), Hugh Pettitt (8.12.1899 by marriage) & William J. Francis (11.8.13).
Sergeant Goodwillie is recorded as posted with 1st Battalion, The Dorsetshire Regiment. Prior to the war this unit was in India and must have staged back through Colchester. Along with his Battalion, Sergeant W. Goodwillie was stationed at Sobraon Barracks, in Colchester. This barracks no longer exists, as the area forms the car park for Colchester Football Club which was in Layer Road. From 1906 the Regiment was posted to Gosport 1909 to Farnborough, 1911 to Blackdown and then 1913 to Belfast.
Goodwillie must have left the service for a time and became a Carpenter as a Short Service Attestation in his records show him rejoin the colours on 28 November 1914 and re-promoted to Sergeant a day later. He is said to have been extremely sickened by the loss of young life and as a vastly experienced and trained soldier believed that it was duty to fight.
Goodwillie is number 131 in the Comrades Lodge No. 2976 Register of Members. He was initiated, aged 30, into Comrades Lodge on 19 Feb 1906, passed on 19 mar 1906 and raised 20 Apr 1906, all clearly recorded in the minute book of the period and on the summons held therein. There is no evidence to suggest William Goodwillie became an officer within the lodge. On Page 109, 20th December 1909, of the 1st Minutes book, a list of members shows Bro. W. Goodwillie recorded as a member. He was struck off on 29th of September 1914, his name is not listed on the 1933 Scroll in the Shrine at Freemasons Hall. In 1916 his Regiment was part of 14th Brigade, 32nd Division in France and Flanders on the Western Front. No. 12562 Sergeant Goodwillie was killed in action on 17th May 1916 serving his King and his Country, on the Somme prior to the 1st phase of major action for which this area is most famous.
His Great Grandson provided a story of bravery. Sergeant Goodwillie attempted to rescue two young soldiers, however, all three were captured by the enemy and shot. Corroborative research into war poets shows an extract from Charles Douie's account which explains how Algeo and another officer went out on a trench recce from Hammerhead Trench at Thiepval on the Somme. "They went into No Man's Land to try and identify the location of a German MG that had caused casualties to the Dorsets. Captain William Bensley Algeo was known to be a very brave man, had been awarded the MC, and was to be moved to a staff post on 19th May. There is some thought that he may have seen this as his last chance of front line action. Captain Algeo was mentioned on the War Diary of the 1st Dorsets as "a most gallant and capable officer…he had a longer experience of war in the trenches than any other (officer) in the Battalion"
CSM Ernest Shephard described that "at 10.am this morning without saying anything, Captain Algeo and Lt Mansel-Pleydell (the intelligence officer) went out from the sap. They were seen crossing No Man's Land between sap and wood. When nearly up to the edge of the wood Mansel-Pleydell was seen to beckon and he and Captain Algeo ran into the wood. There was a scuffle and Captain Algeo was heard shouting 'Hands up, hands up, put it down' . A volley of rifle fire and revolver shots followed, a scream then silence".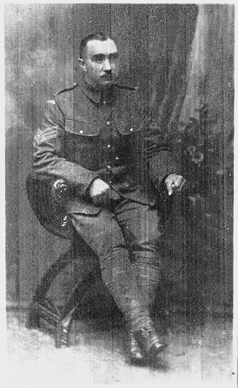 Shephard rushed to his senior officer and asked that the artillery be informed that the two officers were in NoMan's Land and that artillery fire should be avoided into the sector. This was agreed and two volunteers were called on to find out what had befallen the two offers. Sergeants Goodwillie and Rogers volunteered with Goodwillie leading the way. Shephard saw the sergeants enter the wood but again shooting broke out and they became separated. Rogers returned alone about 30 minutes later and reported hearing the 'jabbering' of German voices but saw nothing of the officers or Goodwillie. The Germans reported the two officers dead via the Red Cross and all three men were buried together behind the German lines in Miraumont Communal Cemetery."
The father of the young Captain Algoe, the only son of Rev. Algoe - rector of Studland and Brownsea - , felt a debt of honour and offered to put William Goodwillie's son, through his schooling. William J Francis Goodwillie lived a long life in Portsmouth, but memories run deep in the Goodwillie family and WJF Goodwillie's wife recalls a resentment by her mother-in-law Mabel towards Freemasons after they had offered no support.
A sad entry is seen on Page 211 of the Comrades Lodge Volume 1 Minute Book for 16th October 1916 that Mention was made of the case of Mrs Goodwillie by the Secretary who was directed to write her on the decision of the Lodge. This was that no action could be taken on her case. The clue to the inability to offer assistance could be that Goodwillie was struck of the Comrades Lodge Register in September 1914 having left the area.
His body is respectfully interred at Row A Grave 7, Miraumont Communal Cemetery which is tended by the Commonwealth War Graves Commission. William Goodwillie's name is also commemorated on the wall of the Gosport Masonic Hall, and a plaque exists on the wall of St. Mary's Church as a testament to his heroism.
With thanks to the Goodwillie family and W.Bro. Mike McCarthy.